Ok guys, Maria from Verybusymama is away for a few weeks so myself and Medicatedfollower have agreed to host this fabulous linky whilst she is away visiting her family in Chile. This week it's my turn and i do hope i do it right as i love this linky.
So what has my little rascals been wearing this week, well seeing as it was Joseph's birthday at the weekend i think i shall share with you all a t-shirt he got for his birthday, I don't normally buy character tops but Joseph absolutely loves Moshi Monsters and this top IS pretty cool.
It has a Moshi Zommer Rockstar on it with the words 'Rock On' written down the left handside, perfect for my little boy as he loves to dance and sing along to music. He really loves this top and I found it hard to get it off of him at the end of the day.
I bought the t-shirt from Tesco and it cost me £6, very cheap and made one boy very happy. I would say it's a definitely a good buy for all those moshi fans out there, even my 9 year old wants one. I love the colours on the top, bright green, grey and black all go very well together.
Have you got a stylish little child? Is there some clothes that you have your eye on for your child ? Whatever the style, if you think it's trendy then Please link up your posts, I would love to see what they have been wearing. It could be just a few photograph'sor even a short story to go with it!
Rules of the linky are:
Please link back to my blog either with the Trendy Toddler Badge or a mention in the post
After linking up please leave a comment and try to visit the others and comment on their posts
Tweet me your links so i can retweet them out to my followers
Grab the code for the badge from Verybusymama blog here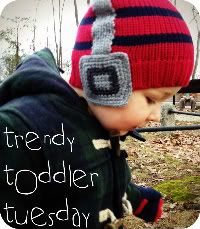 Powered by Linky Tools
Click here to enter your link and view this Linky Tools list…