Its my turn to run the Trendy Toddler Linky again today and next week it shall be running over on medicatedfollowers blog. We have another few weeks and Maria shall be back hosting her fab linky on her blog verybusymamablog.
We have been very busy the past week so i haven't taken many photographs of the boys in their trendy clothes but i did go shopping yesterday, so i think i shall share with you what i bought for the boys. I visited Brent Cross Shopping centre yesterday and i could've almost bankrupted us with all the sales that were on but i was a very good girl and only bought a few items from my favourite shop H&M.
These shirts are gorgeous pastel colours and both in shades of pink, they are cotton too which is great for the hot summer days (IF we ever get any!) they are lovely and lightweight AND they were only £5.99 each , Bargain! I got one each for the two eldest boys. I know they are going to love these shirts and they are not afraid to wear pink in fact Jak is always begging me to buy him more colourful clothes. the shirts will look fab with a pair of denim shorts for the daytime but can also be smartened up for the evening by teaming them with a smart pair of chinos and whats great is the shirts will match any other colour.
Next i bought was a couple os soft cotton shorts for Joseph, they were in the sale and only cost me £3 each. They are lovely bright blue and red and are knee length, very comfortable and cool.
I couldn't leave little Oliver out so i bought him a new hat, It's brown and blue check, he has a similar one in blue and red. I know my boys dont need any more hats but i adore them in them and they look so cute. The hat was £2.99. Do you know what? I counted through the amount of hats that Olver has and i found about 15, gosh thats a lot for a 11 month old baby isn't it! I think i may have a hat disorder hhhmmm!
Oliver is wearing his new hat which is teamed up with his new t-shirt from Tesco which says 'Little Man' on it (thats whats we call him) and his trousers are also from clothing at Tesco. I do beleive that the whole oufit may have cost me less than £10.
So what have your little ones been wearing this week or have you got your eye on a particular outfit for them? Please share your TTT posts and link them up below.
Rules of the linky are:
Please link back to my blog by mentioning me in your post.
Grab the TTT badge below and wear it on your blog with pride
Don't be shy tweet me your links so i can share with everyone on twitter @angoewright78
Please try and comment on others in the linky too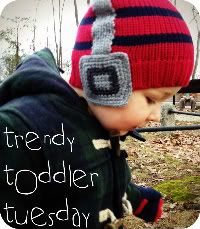 Thank you everyone for taking part, I can't wait to read all of your trendy toddler posts x
Powered by Linky Tools
Click here to enter your link and view this Linky Tools list…