Have you tried anything new this week?
It's week two of four into the CSMA Newthings bloggers challenge and this week was as a family to try a new game. This week has been extremely busy for us, not only did the two eldest boys return to school but i also returned to work after having 5 weeks off over the summer. The eldest boy started his new adventures into secondary school, plus we celebrated his 12th birthday today, so we have all been kept rather busy… although not too busy to enjoy playing a new game together.
As it was the eldest birthday there was quite a few balloons lying around the livingroom floor and as i was sitting their thinking about what game we could play, i quickly remembered reading about a party game involving balloons.
BOOM POP BALLOON
You will need a selection of different coloured balloons, inside one place a small gold star. Inflate, tie and leave to one side
Next gather the children in front of you and tell them that you are going to throw the balloons up in the air – one balloon per child
As you throw the balloons in the air give them an instruction to follow that they must do with one balloon
Catch the balloon with one foot and one hand
Bounce the balloon with your head 5 times then sit down
Try to keep the balloon off of the floor by bouncing it high with your hands/feet/nose/elbow as many times as possible
If you have quite a few children you could play a kind of musical chairs game but instead of taking a chair away each time take a balloon away and the child left without holding a balloon has to sit out.
My boys are very competitive and was funny to see how the littlest was eager to win by pushing his older brother aside and standing in front of him so that he could reach his balloon first.
Remember the balloon with the golden star inside….Well! Now this is the fun part. Gather the children together and ask them to pop all of the balloons because inside one of them there is a little star and whoever finds that star will be the lucky child who will receive a goody.
After a few minutes of bottom bouncing, one of the boys found the golden star but as I am a nice mummy I let both of the boys have a sweetie.
We had giggles, uncontrollable laughter, some pushing and shoving but most of all lots of fun. My boys love to play together especially when it's a new exciting game to play. Balloon Pop Boom is a fun but active game and can keep them busy for hours. Give a child a balloon and watch in amazement on how long they will run around the room bouncing it around.
If you have done anything that has involved trying something new this week, why not link up below. I would love to read them 🙂
If you need any inspiration, CSMA Club has plenty of ideas for free attractions and places to visit around the country on the Boundless things to do section of its Smart Spending hub. Don't forget to use the #newthings hashtag whenever you're sharing.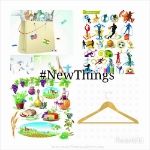 This is our entry into the CSMA week 2 challenge