The boys and I have been invited along with a selection of other bloggers to become New Things Ambassadors, a project run by Boundless. Over the next coming month we have been asked to help inspire other families in trying something new.
Why 'New Things'? UK psychologist Dr. David Holmes came up with a scientific formula to booking the perfect holiday which stated that the best holiday memories are created when you try something new. Whether it's introducing your family to a new recipe, visiting an attraction you've never seen before or just playing a new game, a unique activity leaves a stronger impression in your memory and helps you and your family remember the fun times you had together.
Each week from 25th August for one month, we will be set some challenges/topic that we will focus on a new experience. Our challenge is to encourage others to join in and try something new, using our imagination and creativity.
Over the course of a month, we will be sharing with you about our new experiences, how we enjoyed it and what we thought of it:
Week one (25th 31st August)  – visit a new place
Week two (1st – 7th September) – play a new game
Week three (8th – 14th September) – try a new food
Week four (15th – 21st September) – experience a new culture
We would like you to join in and share your experiences with us too, they don't have to be the same as our challenge, they could be trying new clothes on, visiting a new country or playing a new sport for the first time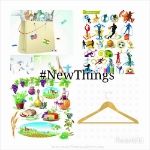 Linky will be open frome friday and will close on Monday, each week for the next month. Hopefully the linky will be a success and it will be continued after the months is up.
Join in using the hashtag #NewThings
Thank you 🙂