Moshi Monsters™ to Host 'Design a Moshling' Exhibition
Pinestein unveiled as winning Moshling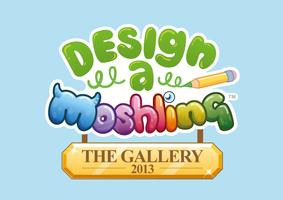 Global kids' phenomenon Moshi Monsters announce the winner of their annual drawing competition on the 2nd July, Design a Moshling and the fantastic news that the top entries, including the winner and runners up, will have their work showcased in a week long exhibition at The Strand Gallery, London. I have no idea how my boy's missed this but they will be very excited to visit the exhibition to see some of the entries.
With over 17,000 entries received this year from Moshi Monsters fans around the globe – up by 4,000 more submitted than last year – the winning Moshling design can be revealed as Pinestein. Designed by Paul Kolendo, aged nine, from Dorset. Pinestein is part pineapple, part crazy scientist, the perfect fit for the whacky world of Moshi Monsters! As part of the winning prize Pinestein has been illustrated by an in house artist at Moshi HQ and will be added as an in-game Moshling character on 

Moshimonsters.com

.
Michael Acton Smith, CEO of Mind Candy and creator of Moshi Monsters said "We were amazed by the quality and quantities of the entries – all 17,000 of them! Moshi fans are a very creative bunch!"
Pinestein will be featured alongside other top entries at The Design a Moshling exhibition, which is taking place from Wednesday 24th July through to Sunday 28th July. The art gallery will give Moshi Monstersfans the chance to see original artwork, find out fun Moshi Monster facts and will give budding artists the chance get creative and participate in one of the roarsome Moshi Illustrator Sessions for a chance to learn first-hand, how to draw a monster! *
The competition, which was open to Moshi fans around the world, saw pizzas, pencils, hamburgers, cats and rainbows being amongst the most popular design entries, as well as several celebrity based drawings including Katy Berry, inspired by Katy Perry. One Direction also proved to be extremely popular amongst the Moshi fans with designs coming in based around the pop five-piece.
The winner will receive a hand-drawn framed illustration of their Moshling signed by Mr Moshi, £500 worth of art supplies for their school and an exclusive bag of Moshi goodies, three runners up also each won £500 worth of art supplies for their school and additional Moshi Monsters™ goodies .
Whats great about this exhibition is that the e
ntry to the exhibition is 

free of charge tickets only,

 for allocated time slots of 45 minute sessions throughout the day. No more than 6 tickets can be ordered per person. For information on how to order tickets and book a time to the exhibition please go to www.designamoshling.eventbrite.com
*Illustrator sessions on a first come first served basis