With Christmas almost on top of us i have been doing a bit of browsing on line for a few little gift ideas for my boys. I love the idea of them snuggling up together in some lovely warm onesies on a cold winters day. They look all cuddly and comfortable. I always like to buy the boys pyjamas and clothes as gifts for christmas presents as i know they will definitely get some use out of them.
Next have a gorgeous selection of clothes and i would like to share with you a few that i have put onto the boys christmas list.
This Polar Bear All in One would look absolutely adorable on my little Oliver, it comes in sizes from 9-12 months to 5-6 years and costs £17-£19.
The next one is for Joseph, this Blue Star All in one is perfect for him as he is my little star! I love the bright blue colour and Joseph really likes to wear hoods at the moment too. It comes in sizes ranging from 9 months to 6 years and costs £11-£13.
And lastly this Angry Birds All in One suits my Jak to a tee. He loves the idea of wearing onesies but he gets too hot in them and can only last half hour before jumping out of it saying he cant stand no more. As this item isn't fluffy like the others he should last longer in it. It comes in sizes ranging from 3-16 years old and costs £21-£26.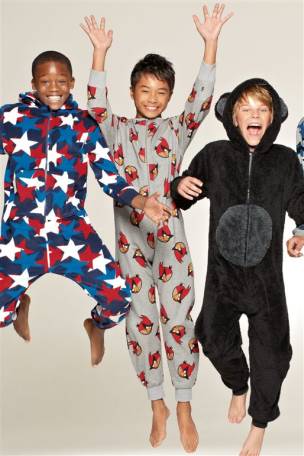 What do you think of my selection? Do your children like to wear onesies?
Thank you for reading 🙂