I have a passion for clothes but don't often get time to wear lovely outfits as i spend all my time at work or indoors with my boys, so I am over the moon that my passion has been passed on down to my children especially Joseph. He is 7 years old and loves to dress up, his favourite item of clothes to wear are bow ties and trilby hats. He has the most amazing pair of silver trousers that he adores but he is growing out of them and we are currently on the look out for a new pair.
I recently bought the boys some new winter coats, although Joseph is a boy and 7 years old he loves to choose his own clothes. He's not keen on tops with logos, he likes patterned material and he prefers to wear clothes that are that little bit different to his friends. We looked on River Island's website and he immediately was drawn to a Boys grey wool texture crombie coat, costing £45 I thought it was a good price to pay for a coat.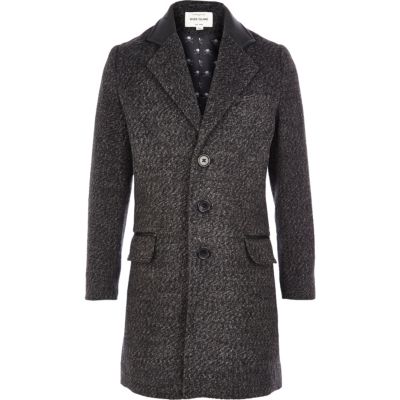 Joseph definitely has an eye for trendy clothes. The coat has leather detailed trim around the collar and on the pockets and a skull and cross bone lining, making it really appealing to the younger children.
Once the coat arrived I was a little disheartened as it wasn't as thick as i thought it would be, but that didn't affect Joseph's love for it. He put it on straight away and walked around the living room putting on a fashion show for us.
I must say he looks rather dapper in it!
Joseph's teamed up his coat with a Trilby hat, both bought from H&M.
The coat is three-quarter length single breasted, done up with three buttons. It has 2 flapped hip pockets and a centre vent in the back. It's soft wool makes it comfortable to wear.
I think Joseph looks über cool in his coat and I myself absolutely adore it too!
What do you think?